1. Order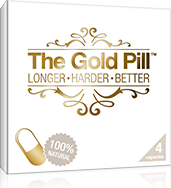 There are 4 capsules in 1 box!


Introducing - The Lovers Pack*!
In proud partnership with Skins, every customer who

orders 3 or more

packets of The Gold Pill - will receive The Lovers Pack, completely free of charge.
*The Lovers Pack contains - two Skins condoms and two different single use sachets of a personal lubricant - a silicon based lubricant (ID Millenium) and a water based lubricant (ID Glide), for even better, safer sex.
Currently out of stock!!!
ETA at the moment unknown
---
1 box The Gold Pill
£ 15.99
2 boxes The Gold Pill
£ 29.80
You save 7%
3 boxes The Gold Pill
£ 42.24
You save 12%
5 boxes The Gold Pill
£ 66.35
You save 17%
10 boxes The Gold Pill
£ 123.15
You save 23%
20 boxes The Gold Pill
£ 223.99
You save 30%
2. Order review
Quantity
Price
Discount
Total products
Total products
Coupon
Shipping:
Total
Coupon
3. Enter your details and select a payment method
Enter your delivery address
Name

*

Surname

*

Email

*

Notes
Choose a delivery method
1st class Royal mail (£ 1.00)




2nd class Royal mail (£ 0.00)



Select a payment method
Due to restrictions on available dispatch services in the current COVID-19 crisis, no tracking facilities or proof of postage are available on any orders, and no compensation will be granted from TheGoldPill or Royal Mail in the event that any packages do not arrive as expected. We ask that our customers understand that in the current circumstances, they order at their own risk and TheGoldPill will not be able to assist with locating orders as we usually do. Please see www.royalmail.com/coronavirus. for updates on Royal Mail's expected delivery times - which is beyond our control.
By pressing the "ORDER" button above you will submit your order to TheGoldPill.co.uk and be routed to PayPal to complete the payment process. Your order will remain pending until the PayPal payment has been processed and received by TheGoldPill.co.uk.

If you have any difficulties in filling out this order form, please send an e-mail to info@thegoldpill.co.uk.